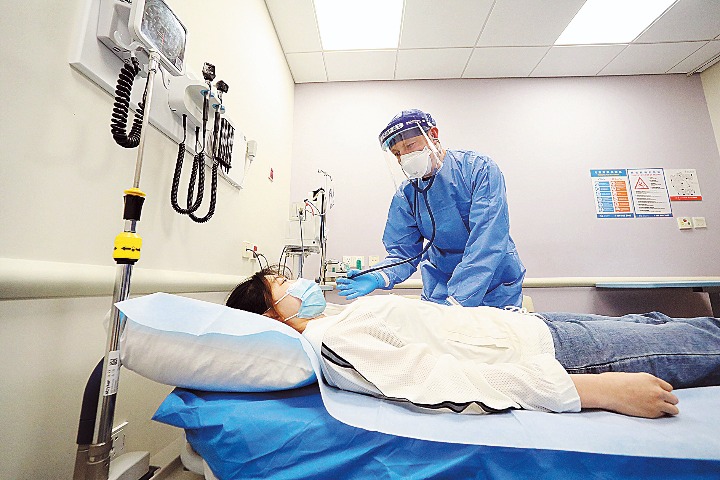 Medical workers around the world join the fight in Shanghai
While Chinese medical workers make up the majority of people battling Shanghai's epidemic resurgence, a number of foreign doctors are also devoting their efforts to helping the city through this difficult time.
Niels DeConinck, a French doctor in the emergency department of Jiahui International Hospital, is one of them.
Since the city began to thwart the spread of the COVID-19 outbreak in late March, he and his medical team have maintained a full complement and remained operational.
"If there is an increase in patients or there is a new problem, it will be easy for us to come and help," said DeConinck, who has lived and worked in Shanghai for 13 years.
"We were able to have enough doctors on call at all times."
China Daily visited the hospital on April 28. The emergency department had a space dedicated to the care of patients in emergency situations, even if they did not have a recent nucleic acid test result.
"We have adjusted our workflows and created different zones in the emergency room to ensure that anyone entering is seen quickly, safely and without risk, especially the risk of COVID-19," he said. he adds.
"For example, we had a worker who came in at midnight with chest pains," DeConinck recalls.
"It was a very urgent situation, so our team wore full personal protective equipment and immediately assessed and treated the patient. He ended up being diagnosed with a heart attack.
"For such an urgent condition, we provide medical care first," he confirmed, later emphasizing that it is also extremely important that staff always stay safe, in order to continue helping so many patients. as possible.
"We are on the front line so we cannot afford to make a single mistake."
After working for a public hospital in Paris for several years, DeConinck decided to try something different and so he came to China.
"I don't think I would have stayed this long if I hadn't loved it. It's the love in this job that keeps me going."
Ono Himiko, a Japanese doctor at Shanghai Punan Hospital in Pudong New District, also remained at her post during the outbreak in the city.
As a team member among those collecting nucleic acid samples from neighborhoods, she sometimes had to help more than 1,000 residents with the tests per day.
Despite the hard work, the Hiroshima native said there were always little things that warmed her heart.
Showing a photo of some pink flower-shaped snacks, she said it was a gift from a resident.
"I didn't accept it because of the epidemic control requirement. So I took it on camera, because I wanted to capture that sweet moment," she said.
"I believe the feeling between people will become deeper if we can stay strong in the battle against the epidemic."
Park Youngjin, a South Korean doctor at Punan Hospital, received similar gifts – paintings with hearts and doctors in protective clothing – from Shanghai residents while taking samples of nucleic acid in communities.
"I studied medicine because I wanted to serve and save others," he said. "It is therefore my responsibility to help Shanghai and its people through this difficult time, because the city is our common home."